When I went to bed yesterday (after the Main Event) at around 7 AM, I didn't think of setting my clock. I mean, I didn't have to get up before around 5-6 PM, I'd be long awake before that.
Anyways, someone knocks on my door hard while I sleep. I look at my cellphone to see the time, my eyes are all hazy. Hot damn, it's like 6:25 PM, yikes, I guess I really needed that sleep. We had to be at the MGM Grand at 7:30 PM since we were going to see Santana live that night.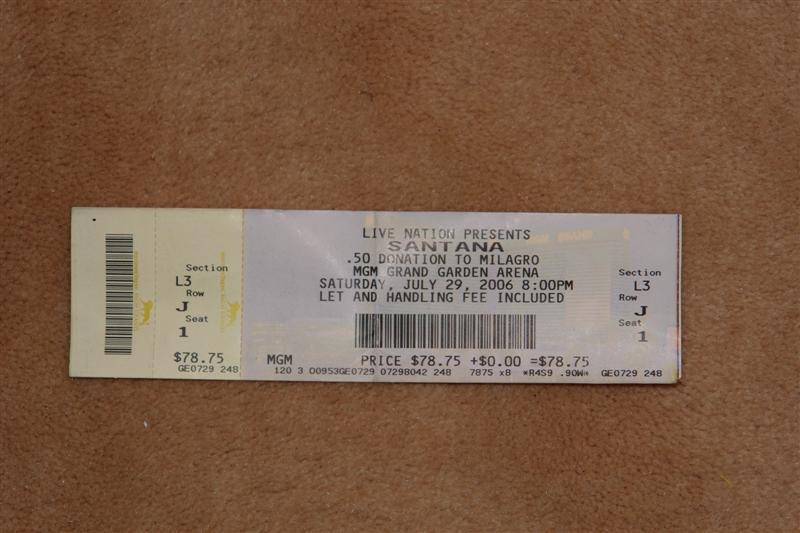 We couldn't get a cab, so we decided to go out to the street and see if we could get one. After standing there for like 30 minutes without being able to hail a cab we're getting kind of nervous as the clock's around 7 PM, and it takes about 20 minutes to get to the strip. We decide to walk into the nearest 7-eleven and see if we can get a ride with someone. After a couple of tries we get in touch with an American guy that says that although he has a pickup, he'd take us, although he'd have to talk with his wife first. He goes outside, has a quick chat with his wife, and then he waves us out. Really cool guy / couple, they drove us straight to the MGM Grand entrance. While he insisted on not taking any money, I threw $50 into the backseat of his pickup and said I insisted. He smiled, gave me his hand and said thanks.
We quickly met up with the others and went into the MGM Grand Arena. Damn what a place. That hall is so unbelievable big, and it was inside the MGM itself, everything in Vegas is just extremely large. Mark Hamilton was warming up, I guess he was okay, but the sound was far too loud so it really ruined the experience.
At about 9 PM Santana came on. It started out with a video of a white peace dove flying, it was so grand a scenery / experience, one couldn't avoid getting goose bumps simply due to the feeling. It's impossible to describe a concert, but it was breathtaking, Santana is nothing short of amazing on the guitar. I really liked his small speeches in between the songs. After a short speech of us having to be thankful to god for being born into this world, he said, "We are opposite of George Bush… Compassion. Humanity. Kindness… We are opposite of George Bush". The hall went into an uproar of applause, it was so great.